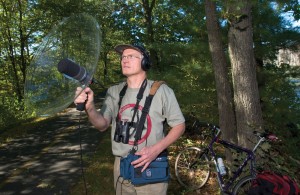 It was the spring of 1968, my last semester in college, when I became hooked on birds in general, and a few months later on birdsong in particular. In graduate school at Oregon State University, I studied Bewick's wrens, asking (and answering) primarily one simple question: Where and when and from whom does a young male learn his songs? During a post-doctoral and assistant professor stint at the Rockefeller University Field Research Center in New York (1972-1980), I honed my skills as a scientist, learning how to ask questions and obtain answers.
For the next 23 years at the University of Massachusetts, I asked question after question, about wrens and chickadees and warblers and sparrows and flycatchers and almost any bird who sang. With continuous support from the National Science Foundation, I published prolifically in academic journals. Exploring the world of birdsong was exhilarating, and I thrived, but for the spring and summer of 2003, I chose to do something different, to celebrate birdsong across the North American continent, from Virginia on the Atlantic to Oregon on the Pacific, all from the seat of a bicycle (and with my son). I left on this journey as a seriously entrenched tenured professor, my job secure for life; I returned jobless, choosing to retire early so that I could celebrate birdsong full time, and start a new life.
Liberated from University life, I sought in my new life to explain birdsong to general readers, not just university academics. My first attempt was The Singing Life of Birds (2005). Next, in collaboration with Cornell University's Laboratory of Ornithology, I organized and wrote the Backyard Birdsong Guides (2008), which sold nearly 400,000 copies to great acclaim (until the publisher mysteriously chose to stop printing). Then came Birdsong by the Seasons (2009), again with Houghton Mifflin. More are in the works.
Recognition for these efforts has been satisfying:
2003. The prestigious American Ornithologists' Union presented me with the Elliott Coues Award, a research award that recognized me as "the reigning authority on avian vocal behavior."
2006.  The Singing Life of Birds was awarded the 2006 John Burroughs medal for natural history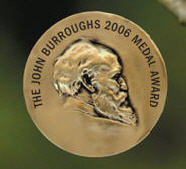 writing (joining the ranks of books such as Rachel Carson's Silent Spring and Aldo Leopold's A Sand County Almanac), leading to an interview on NPR's "Fresh Air with Terry Gross."
2006. The American Birding Association recognized me with the Robert Ridgway Distinguished Service Award, "given for excellence in publications pertaining to field ornithology."
2014. The Wilson Ornithological Society honored me with its "premiere ornithological award," the Margaret Morse Nice medal, for my "Lifetime Contribution to Ornithology."
With 45 years of active birdsong research as my guide, I cherish the birdsong of spring and summer more than ever. An excellent day is when I'm out in the predawn darkness, waiting for first light to deliver the dawn chorus, and returning home hours later with a wealth of recorded song for further study. A good day is listening and studying and writing about birdsong at my desk. A bad day has no birdsong in it.
I am a life-long scientist, one who asks questions, seeking answers and increasingly deeper understandings. No longer entrenched at the University, I am eager to share what I have learned and eager to encourage a deeper appreciation of birds and their songs by the tens of millions of others who also treasure birds.